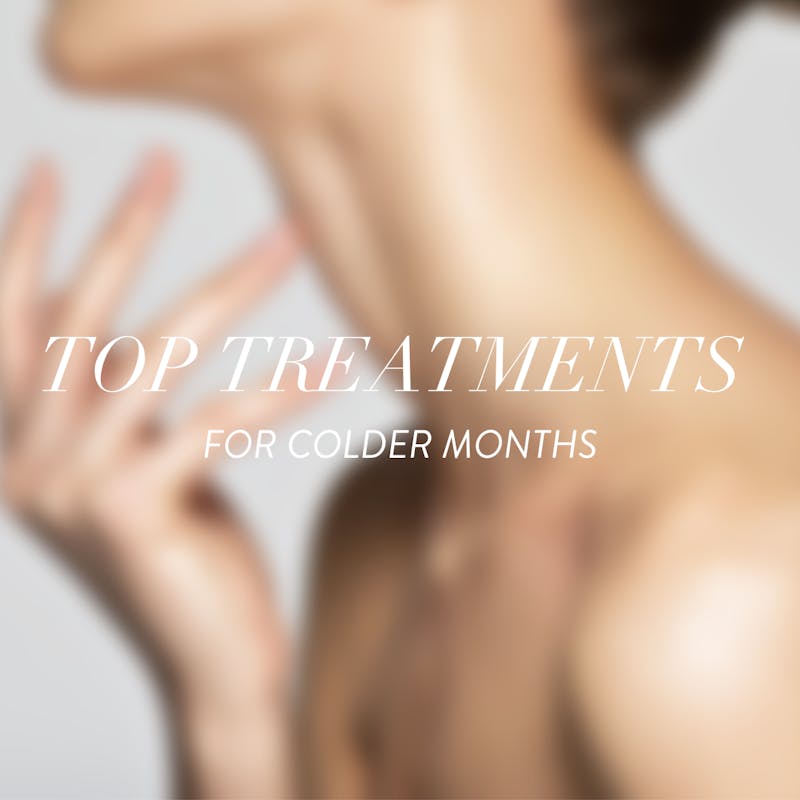 Winter is the perfect time to indulge in some of our favorite treatments, especially the ones that require hiding out at home as the skin recovers. Many see the colder weather as a bad thing, but it's actually advantageous for certain treatments. The winter makes it easier for our patients to have private downtime, allowing them to recover and stay indoors.
Here are our top treatments we love to get during the winter:
Chemical Peels
Chemical peels are the perfect winter skin treat. Whether it's a superficial, medium depth, or deep peel you don't want to risk being out in hot weather if you've had one. Oftentimes, it can look and feel similar to a sunburn diretly after a chemical peel (depending on which peel you get) so it's imporant you don't subject the new, delicate skin to actual sun. Winter is perfect, as we naturally stay indoors more. This means the amount of sun and UV rays exposure is far less than in the sunnier months.
Additionally, with the colder months comes drier skin. Chemical peels help get rid of the dead skin cells lying on the surface causing our skin to lose its luster. You'll also notice that your products will go one smoothly and absorb into the refreshed skin, further maintaining your chemical peel results.
Coolsculpting
It's never too soon to start thinking about your summer body. One of our all-time favorite treatments for fat reduction and body contouring is Coolsculpting! For those who don't know, Coolsculpting is the non-invasive way to permanently remove up to 25% of fat without downtime. Coolsculpting is an amazing treatment for patients who already live a healthy and active lifestyle It can intensify and accelerate weightloss results by getting rid of stubborn fat in targeted areas.
Even though patients can benefit from CoolSculpting at any point throughout the year, the colder months is a great time schedule a treatment. Firstly, CoolSculpting results are gradual. Improvements can be seen within the first few weeks following treatment, but the optimal results may take up to 3 months to see. Individual results vary and depend on your metabolism and your lymphatic system. The most transformational results can take time, so it is best to schedule this treatment when you are not in a time crunch and can give your body the time it needs to maximize results.
Secondly, in some cases CoolSculpting treatments can also cause redness, swelling, and bruising in the targeted areas, all of which you can more easily conceal during the colder months. In general, bruising and other side effects are typically minimal and are due to the suction pressure created by the CoolSculpting applicator. The abdominal area is the most common treatment area for bruising to occur.
And lastly, depending on your goals and customized treatment plan, a series of treatments will be needed, four to six weeks between each session. Some treatment areas require 3 or more treatments to see results. By starting a CoolSculpting treatment plan in the winter, you give yourself the time needed to heal and rid itself of the stubborn fat cells before the warm temperatures return.
Morpheus8 and Microneedling
Another treatment that our patients love to get all year round, however, colder months might be a little more comfortable for some patients to recoup after a microneedling treatment.
During a Microneedling procedure, several tiny punctures are made in the skin using sterile needles to promote collagen and elastin. The small punctures help stimulate the skin's healing process, so it produces more collagen and elastin resulting in tighter and smoother skin.
Morpheus8 Combes microneedling and radiofrequency laser energy. It's a great treatment that delivers a one-two punch. From tackling pigmentation, acne scars, fine lines and wrinkles, Morpheus8 is the ideal 360 winter treatment. It targets the deeper layers of the skin, revealing a tight, smooth and radiant appearance.
Post-treatment for either procedure requires our patients to wear sunscreen and avoid sun exposure. For about 1-2 weeks after the treatment the skin will be healing and working actively to turnover new skin cells. Sun exposure may cause unwanted pigmentation or, in some cases, scarring.
Not sure which treatment is best for you? Contact our office HERE to speak with a member of our team!