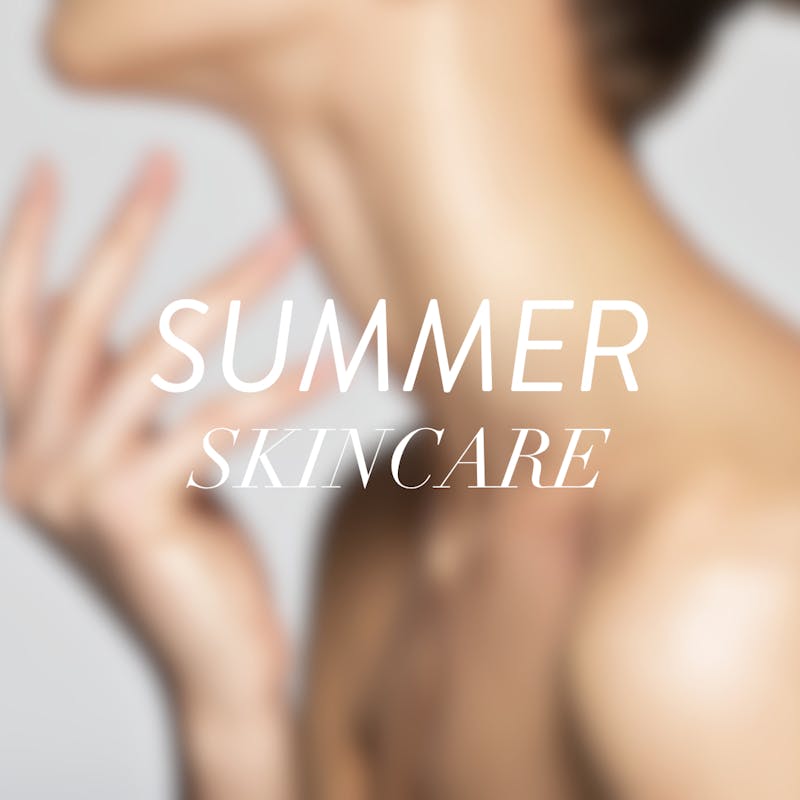 The arrival of summer brings with it increased humidity, abundant sunshine, and various elements that can affect the skin positively and negatively. With more time spent outdoors, our skin becomes vulnerable to harmful UV rays that contribute to damage and aging. However, the moisture in the air during this season offers a welcome hydration boost to naturally dry skin, especially after a cool and dry spring.
While a complete overhaul of your skincare routine may not be necessary, there are a few factors to consider in order to enhance your summer glow and address common skin concerns, regardless of your skin type.
Find your Hero Broad-Spectrum Sunscreen
Dare we say that an SPF is our antiaging fountain of youth? It is essential to use broad-spectrum sunscreen that shields against both UVA and UVB rays, responsible for skin cancer and aging. Regardless of the weather, we suggest opting for a broad-spectrum sunscreen with at least SPF 30, preferably containing zinc oxide.
Sunscreen containing zinc oxide creates a protective barrier that reflects UV rays, offers minimal skin absorption, and can be used daily without harm. If you are concerned about sunscreen causing breakouts, search for a noncomedogenic labeled sunscreen that is less likely to clog pores. Our preferred sunscreens are from EltaMD and SkinMedica which some in carying levels of SPF and have options in both tinted and non-tinted sunscreens.
Evaluate your Moisturizers and Cleansers
The idea that everyone should switch from heavier creamy cleansers and moisturizers to lighter foam or gel products is a commonly held belief. However, whether this is true for you depends on the unique needs of your skin, which can vary from day to day.
The fact is, there is no universal recommendation for summer skincare which means it is not necessary to switch from creamy products to lighter gels or foams if your skin does not feel any different from winter to summer. This decision can also be made on a daily basis. If you feel dry, use your moisturizer, but if you feel greasy, skip it! We love switching our summer cleansers between ZO SkinHealth's Exolfiating and Gentle Sleanser to help slough off the summer's oil and dirt from the skin and also feel refreshed and hydrated.
To Smooth Wrinkles, Continue (or Start) to Use a Retinoid
Retinoids, which are derived from vitamin A, are effective in reducing the visibility of lines and wrinkles by stimulating collagen production. Retinols, which are milder forms of retinoids, can be purchased over the counter, while stronger reintoids must be purchased with a doctor like the experts at SVIA. While retinoids have been popular additions to winter or spring skincare routines, there is a misconception that they should be avoided during summer due to the sun's UV rays making the skin more sensitive. We offer a simple solution if you're new to retinol: start slowly with 1-2 times per week until you feel like your skin can tolerate the new ingredients. Always wear a sunscreen! For seasoned reintol users, apply your retinol at night during the summer, allowing it to work its anti-aging magic while you sleep.
We offer a range of retinoid products at SVIA to suit both the beginner and seasoned patients. Our summer go-to's are from SkinBetter Overnight Alpharet Cream and ZO Skin Health Skin Brightener 0.5. Both are gentle enough not to cause irritation but strong enough to help maintain and improve fine lines and wrinkles.
Consult with your SVIA Aesthetician
The change in seasons could mean a change in skincare routine or skincare products for you. Although we recommend you follow the basic summer skincare tips, it's equally as important to consult your aesthetician and map out a personal skincare plan to either acheive or maintain results.
To book a consult with one of our medical aestheticians, CLICK HERE.