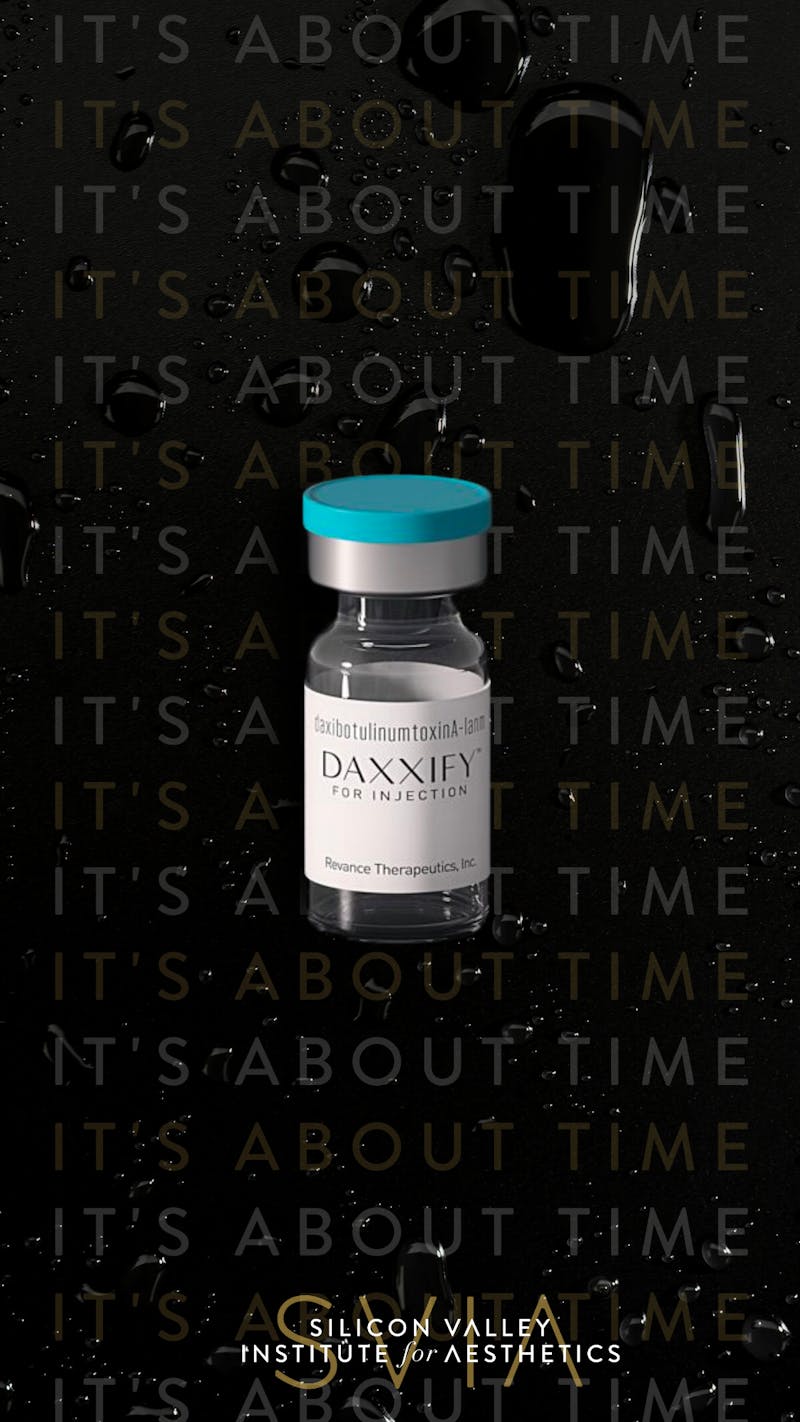 It's about time for a longer lasting neurotoxin!
We are so excited to be one of the first offices in Santa Clara and Sacramento county to offer our patients Daxxify – the first and only FDA-approved neuromodulator delivering results lasting up to 6-9 months!
What is DAAXIFY?
DAXXIFY is an injectable treatment that can treat dynamic wrinkles on the face. While effects of neuromodulators, such as Botox and Xeomin, last for approximately 3-4 months, DAXXIFY is the only FDA-approved, peptide-formulated neuromodulator that has been shown to last for up to 6 months to 9 months! Patients have reported seeing their year long results in as few at 2 treatments per year.
DAXXIFY is a safe, low dose of a botulinum toxin, a purified protein that acts as a muscle relaxant. DAXXIFY is unique because it is the first botulinum toxin injectable treatment made up of a synthetic, proprietary Peptide Exchange Technology™, meaning it does not have any human or animal products. This technology effectively stabilizes the results of the wrinkle relaxer, achieving longer-lasting rejuvenating effects.
Who is a candidate for DAXXIFY?
DAXXIFY is a great option for those patients who have been treated with traditional neuromodulators and want longer lasting results or don't have the time to come in for the recommended 4 treatments per year. Alternatively, patients who have never used neurotoxins but want a preventative treatment for wrinkles or soften visible lines on the face will equally enjoy the results. Additionally, those looking for a comprehensive rejuvenation treatment, including facial sculpting or plumping, can combine dermal fillers with DAXXIFY injections.
Daxxify does not have a significant side effects or safety concerns. As with any injectable treatment, patients may experience redness, swelling, bruising, or mild discomfort at the injection site. These mild side effects will resolve themselves on their own.
How to get started with DAAXIFY
SVIA is one of the first offices to be able to offer DAAXIFY to our patients before it is launched to all other offices. If you are looking for a long-lasting, anti-aging solution that smooths away wrinkles, DAXXIFY may be the best treatment option for you. At this time, existing patients only can book a DAAXIFY treatment with one of our Board-Certified Plastic Surgeons.
To learn more about DAXXIFY, CLICK HERE. If you are ready to make an appointment, you can request an appointment HERE or call us at 408-418-0808 or 916-678-4188.